Introducing The Painter WOW! Book Tenth Edition!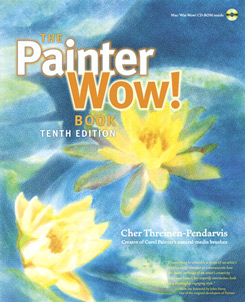 New for Painter 12
As Painter reaches a milestone twentieth anniversary, The Painter Wow! Book, now in its tenth edition, continues to be an inspiration to Painter fans everywhere, novice and pros alike. Author and renowned artist Cher Threinen-Pendarvis uses her clear, instructive approach to get beginners up to speed and provides more advanced users with additional insight on a variety of cool, creative, and productive techniques.
New to this edition is coverage of Painter's latest tools and the completely redesigned interface, including new media library management, the new Navigator panel and new Clone Source panel, enhanced workspace features, new Real Wet Watercolor and Real Wet Oil painting media, Symmetry features including Kaleidoscope and Mirror painting modes, improved support for Photoshop users, and much more.
The Painter Wow! Book series has been one of the best-selling and most informative sources on Corel Painter since the first edition came off the presses over 15 years ago. Many thousands of people have been inspired through the incredible artist galleries, detailed tutorials and clear writing style. From beginner to the most advanced users, every level of reader will discover the latest tools and see the strategies of some of the top Painter artists in the world.
Welcome!
As our art community has grown I've met so many wonderful artists and photographers embracing the new tools and techniques—and seen such beautiful artwork! One of my favorite things about traveling, speaking, and writing is meeting wonderful new people who have all sorts of different experiences and skill levels in the world of art and digital imaging.
I'm really pleased you've found this site! I want the site to be something you can immediately use and enjoy. There are many different things to see. You'll find Painter brush samples, textures, articles I've written, the latest information on my books, links to artists and other resources, galleries from some of my favorite digital artists, and of course, my own art gallery.
Happy Painting!
About Cher
Cher Threinen-Pendarvis started with a child's fascination with art, and graduated from college with a BFA with Highest Honors and Distinction in Art, specializing in painting and printmaking. A pioneer of the electronic medium, Cher has worked alongside other notables from the early digital era. Her digital illustrations have been published since 1987.
Cher is now widely recognized for her mastery of Painter and Photoshop. Her articles and art span two decades of influential books and periodicals. Her work has been exhibited in museums and art galleries worldwide. Cher travels the globe conducting workshops and specialized training for graphics professionals in print and broadcast media. She is principal of the consulting firm Cher Threinen Design, and is author of The Photoshop and Painter Artist Tablet Book and all ten editions of The Painter WOW! Book and co-author of Beyond Digital Photography: Transforming Photos into Fine Art Using Photoshop and Painter.
Cher is the creative mastermind who made most of the brushes shipping with Corel Painter, and is a regular contributor to the Corel Painter newsletter, "The Painter Canvas."